Preschool Letter Y Worksheets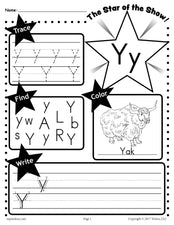 This letter Y worksheet includes a variety of letter Y activities. There's a ...
Read More
Letter Y Worksheets for Preschoolers
Your #1 source for free letter Y worksheets! Practice everything from letter recognition to letter tracing and so much more using these fun, printable letter Y activities your preschoolers will love. Each PDF worksheet is super easy to print, and they are available instantly, so the learning never ends!
While these letter Y worksheets were made primarily with preschoolers ages 3-4 in mind, they work great for an advanced toddler, or kindergartner who might be struggling with letter Y concepts as well.
Some Topics & Skills Covered:
letter recognition
letter Y tracing (both uppercase and lowercase)
letter case differentiation
letter Y coloring pages
handwriting skills
fine motor skills
Read More